---
It All Starts As A Fun Fashion Statement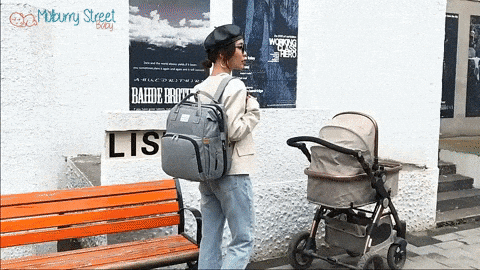 You'll Love the High Quality Materials And Construction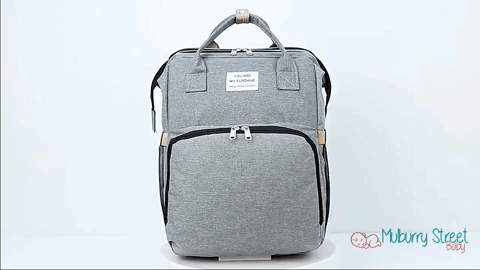 The Magic Happens When Your Bag Turns Into A Changing Crib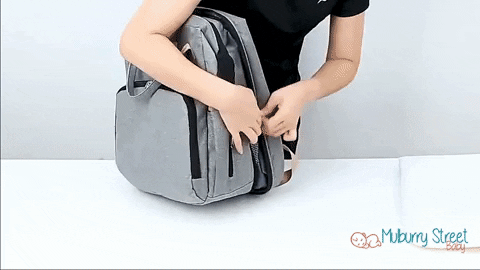 You Will Love Roomy Pockets To Pack Everything You Need
From Momma's Carryall To An Amazing Portable Crib

 
The simple design and engineering behind this backpack is amazing!  It is actually a huge carrying capacity backpack with an easy to use foldable crib.  The design makes the process of travel with a baby so much easier.  This makes the bond between mother and baby easier and more convenient.  Mom can change the baby's diaper with greater safety and security.
Available With Or Without USB Interface
The Ready Steady Travel EZ™ Folding Cribs is available in two configurations.  With and without a USB interface.  With the integrated USB charger there is a USB port on the outside of the bag. The USB port is connected to a cable on the inside where you can plug in a portable power bank.  With this capability you will be able to keep your phone or music device fully powered.
Various Carrying Methods
This works well as combination diaper backpack and an expandable changing station crib.  This amazing product It is very suitable for travel, short trips, outings, shopping or as a quick on-the-go medical bag.  The cushioning straps are broad and comfortable.  They can effectively reduce the pressure on the shoulders and spine.
Convenient Pocket
This was designed from the start to provide maximum convenience for on-the-go parents.  It was designed with baby's safety in mind to give a greater sense of security for busy parents who need to travel. The front pocket is insulated to keep a baby bottle's temperature stable for a longer period of time.  The two side pockets are quite deep and easily accessible.  These practical pockets can store everything mom needs to keep baby comfortable. 
Large-capacity Backpack
The diaper bag backpack for boys and girls has a large capacity, which can perfectly hold all the necessities of the baby.

Size Chart
40cm by 31cm by 20cm
15.75 inches by 12.20 inches by 7.87 inches
Weight:  1.1kg / 2.45 Lbs
The large main pockets are huge with zippers to secure your most important baby items.  There are 12 different functional pockets.  Together these pockets can meet all the needs of a busy mom or dad.  Easily keep bottles, towels, diapers or other clothes separated. These highly functional pockets will help take the stress out of your daily travels.
High Quality
This was designed for heavy and sustained use.  It is made of hypo-allergenic high-quality nylon.  It is long lasting, durable and waterproof.  You have more to worry about than protecting your folding crib.  The high quality allows you to focus on your little one without having to worry about ruining your carry all.  What if the bag gets wet?  No worries!
SPECIFICATIONS
A strong and sturdy diaper bag that transforms quickly into a changing crib. 
Keeps your baby safe from unclean public restroom surfaces.

Perfect for when you are out and on the go.

Easily becomes a clean safe naptime space.

Stylish and practical - works in the city and in the country on a hike.

Backpack has a very comfortable feel with broad well padded straps. 
YOU CAN SHOP WITH CONFIDENCE
The Mulburry Street Products Checklist!

You can feel safe shopping with us
We offer a 14 day money back guarantee
365/24/7 exceptional customer service,

 

contact us
100% safe and secure payments with Stripe or PayPal
We value your privacy and protect your information
Free shipping worldwide available on orders